The Music of J. Warwick Moore (also known as Emile Gastelle)
played on a Bechstein by Uwe Rössler
Amoureuse, Intermezzo – Gavotte 1918
A Ride to Tokio, Characteristic piece 1918
Love's Penance, Waltz 1918
Sleepy C**ns, A grotesque dance 1911
Love's Vision 1911
Couleur de Rose, Danse gracieuse 1930
Spanish Fête, Boléro 1908
Remembrance, Mélodie 1899
The Jolly N*gg*rs, A plantation dance 1890
Absent Friends, Meditation 1911
Old Kentucky, Barn dance 1896
Valse des Adieux 1920
Cliquot, Caprice 1903
Constant and True 1906
Swing Song, Barcarolle 1908
Elégante, Gavotte Date unknown
All by Joseph Warwick Moore, but numbers 1, 2, 3, 5, 6 and 12 published under the pseudonym "Emile Gastelle".
Audio sample (as MP3) bold
Preview of all titles and download available from CDBABY.COM
For more personal information about the recordings see Contact.
Uwe Rössler - piano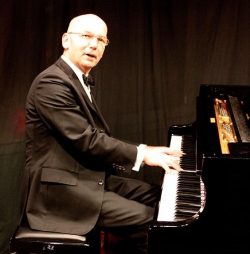 Uwe was born in 1963. He is equally at home with classical music and a range of jazz styles, ancient and modern. Sometimes the keyboard seems just too short for him. His Tiffany Ensemble offers high class entertainment as the name implies – see www.tiffany-ensemble.de (also performances on YouTube). His stamina in recording thirty-one of J Warwick Moore's compositions on the 9th and 10th October 2012 was admirable. More of these will be issued if this music defies fashion and finds a new audience.
The Life of Joseph Warwick Moore (1869-1931)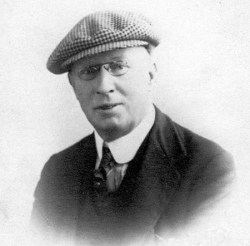 Between 1890 and 1930, Joseph Warwick Moore's compositions were lavishly printed and marketed by a number of publishers in London, Leeds, Birmingham, New York, Boston, Toronto, Melbourne and Sydney. His music rang out from hundreds, if not thousands of domestic pianos.
Joseph was born in Worcester on the 21st July 1869, the ninth of ten children. His father, Joseph Isaiah Moore (1830-1910) had started out as an impoverished carpet weaver in Kidderminster, surviving briefly as an artist but then working for most of his life as a professional harpist and professor of music. In what circumstances he learned to play the harp, and how he ever came to own one are mysteries. His wife Mary and the growing family moved around the country with him to his various places of employment – Worcester, Malvern, Redcar, back to Worcester, Malvern again and eventually Matlock Bath.
Joseph junior, however, excelled on the violin and piano. By the age of 20 he was a first violinist at the Drury Lane Theatre in London. It was about then that his first tunes came into print. I have so far traced the titles of 157 compositions published under the name of J Warwick Moore, or "Emile Gastelle" – the pseudonym he frequently used from about 1911 on.
For several years he found work as a free-lance musical director in theatres around the country (Newport, Burnley, Stockton, Redcar), often using his parents' home in Malvern as a base from which to advertise his services in The Stage or The Era, or indeed to offer work to competent, preferably sober, instrumentalists.
He married for the first time in 1892. However, his wife, Lillian Jane née Welch, died ten months later, shortly after the delivery of a stillborn child.
In April 1897 he took over as M.D. in the Theatre Royal, Bournemouth. While here, he married Jennie Kell Mann from Stockton on Tees. Their daughter Lina was born in December the following year.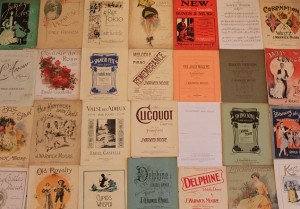 In 1899 he became Musical Director at the Grand Theatre, Southampton – the post he held till his death. His incidental music was however also used in other productions in, for example, Boscombe, Tunbridge Wells, the Channel Islands, Chatham and Dublin.
An early success was the recording of his "Hereford City March" by banjo virtuoso Olly Oakley (with piano accompaniment) in 1902.
The 1911 Census found him, a Professor of Music, living at 63 Portland Terrace, Southampton, with wife Jennie and children Lina (1898), Joe ( 1900), Hilda (1902), Doris (1905) and Ivan (1906).
In 1924, his composition "Absent Friends" was issued on the Guardsman label, performed by the Bryant String Quartet. When Guardsman was bought out by Aco, the same performance reappeared on this new label under the name of the Vernon String Quintette. At the time, this must have seemed like another encouraging milestone in his career.
Publishers continued to print J Warwick Moore's piano compositions at a prodigious rate. The works routinely ran to seven, eight or nine generously-sized pages of piano music. Many compositions were available for full orchestra. Money seems to have been no object. Several Royal Academicians provided fine front cover designs – e.g. "Love's Penance" had a full-colour cover by Frank Aveline, and the second edition of "Our Guards" an engraving by Sidney Paget, the original illustrator of the Sherlock Holmes mysteries. "Old Royalty and "Sunny Spain" featured lithographs by Michael Hanhart, while W George produced designs for "The Belle of Spain" and "Premier Amour".
In 1988, half-a-century too late to be of any use to him, an "Improvisation" by Emile Gastelle was included in the musical credits of Faye Dunaway's film "Burning Secret".
To maximise sales, some of Moore/Gastelle's published compositions were intended for performance by amateur musicians, and as such were marketed as "easy". Ideal material, perhaps, to occupy the mind of the well-brought-up young Edwardian lady at her upright piano in the parlour, impressing an eligible suitor, rather than being distracted by the doings of those rascally Sufragettes out there in the real world. His was typical of the innocent music against which ragtime, jazz and the blues were to be the inevitable reaction.
Joseph Warwick Moore died on December 27th 1931 and is buried at South Stoneham Cemetery near Southampton.
The compositions of J. Warwick Moore (PDF)